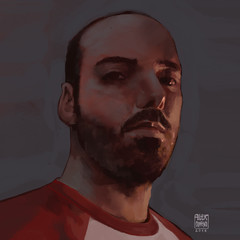 Alejandro Olmedo
Concept artist and illustrator
Malaga, Spain
Summary
Illustrator and concept artist from Málaga, Spain. Since I can remember I have been very passionate about fantasy and scifi environments. I love everything related to it, from great dragons and brave knights to futuristic cities and spaceships.
I have been working as a freelance since 2014. My works include from cover arts for music albums or books to educational content for the 3DTotal editorial, with which I ve collaborated in both the 2DArtist magazine and in the book "Master the art of Speedpainting". In the last couple of years I have been more focused on doing concept design for various AAA projects for advertising campaings and video games.
I use as my main tool Photoshop, but I also have knowledges about 3D programs as Zbrush, Sketchup, Blender or 3DCoat and always trying new ones to help me in my 2D illustrations.
https://mattepaint.com/r/888907DE for HD images for Mattepaintings and high quality illustrations.
Skills
Concept Art
Environment Design
Character Design
Creature Design
Software proficiency
Experience
Freelance concept artist at Axis Studios

Spain

I worked with Axis studios helping on the production of two different cinematics for two awesome projects. I did environment and architectural design.

Freelance Concept Artist at Volta

Spain

I am working as freelance concept artist doing environment design for the production of a AAA game. I've done character, props, guns and architectural design, but mostly environment design.

Freelance Concept Artist at Super Teams Mobile S.L

Spain

I am helping the concept art team to develop the initial concepts and overall look of a battle royal sci-fi game creating several environment and architecture concepts.

Freelance Illustrator at Volta Ca. Keywords Studio

Canada

Cleaning and finishing the illustration for the cover art of the video game "Ancestors - The human kind odisey".

I took the approved sketch and started polishing and cleaning all the background, plants, sky, the different fields and also the foreground animals. Also painted over a rough 3D model of the hominids and finished the illustration with a final unique and realistic look.

Freelance Concept Artist at Fringe Content S-Corp

United States of America

February 2019 - March 2019

I helped to create and design some dragon concepts for an VR experience. I did some body concepts as well as the eggs and the model sheets for the 3D artist.

Freelance Concept Artist at Volta Ca. Keywords Studio

Canada

February 2019 - March 2019

I helped designing and creating concepts for a video game for Google. I did some backgrounds concepts for an sci-fi level design.

Concept Artist at West Studio

September 2018 - February 2019

I worked on West Studio in two projects doing concept art illustrations for a video game and a tv program.